By Tiffany D. Gardner
Recently on Instagram, I shared a story calling out an egg donation agency for its gross Barbie memes that commodified donor conceived people and were also demeaning to intended parents.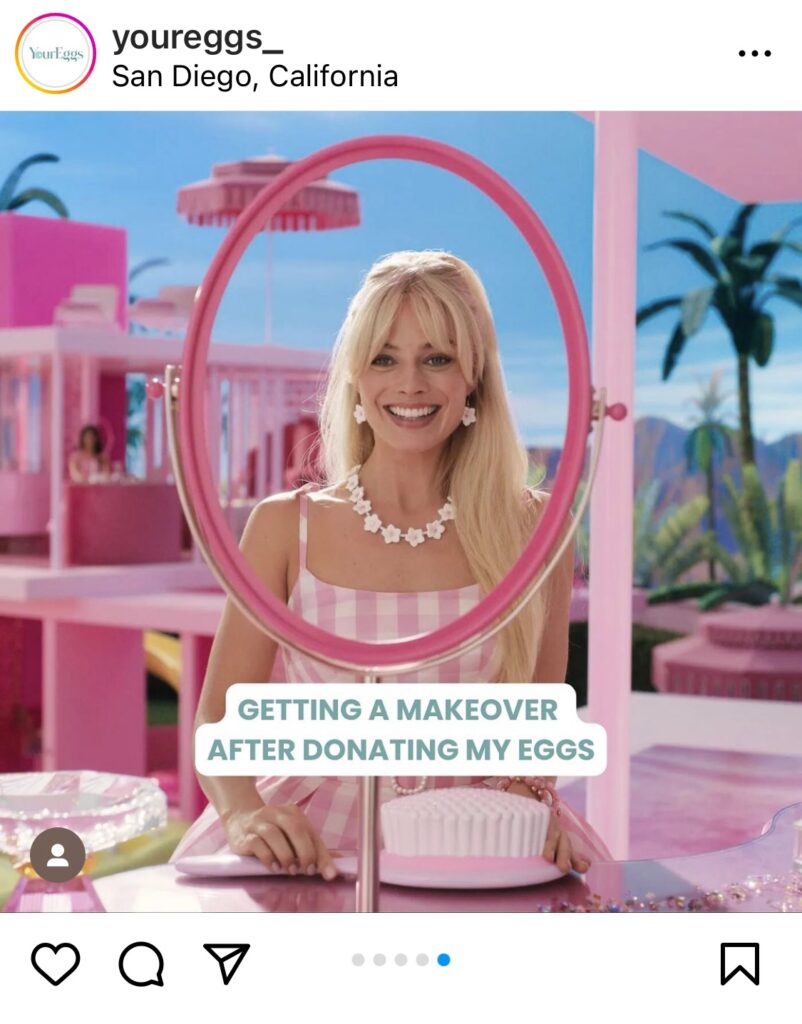 The agency responded by deleting negative comments on the post and finally turning off comments on its page altogether.
Commodification of donor conceived people is rampant in advertising by egg donation agencies. Impressionable young women are targeted to become donors by focusing on the material gains available through compensation for the procedure. Rarely do the advertisements by these agencies include information regarding the fact that when you donate eggs, you're creating an actual human who might someday want to know you.
The egg-donation process is too often presented as an opportunity to make a large amount of cash, which is frequently communicated by suggestions of going on vacation, buying expensive luxury items, or paying off student loans. But to see the process described through Barbie movie memes was a new low.
So I decided to make my own Barbie movie memes.
Gamete donation should never be marketed as a means to a financial end. The sole purpose of gamete donation is the creation of a living, breathing human being who is only temporarily a cute and cuddly baby. In other words, donor conceived people are not Barbie dolls that can be played with indefinitely.
Babies become adults who can think for themselves and will have their own views and opinions about the manner in which they were brought into the world and the decisions that were made for them (before they were even conceived) about whether they can identify the gamete donor, will have an unknown number of siblings around the world, or have access to a lifetime of complete and updated family medical history.
The plot for the Barbie movie is described as Barbie going on a journey of self-discovery in the real world. Donor conceived people go on similar journeys of self discovery, and ads that commodify our conception and existence are not what any future donor conceived person should discover as part of that journey.
Donors should be recruited for the right reasons—and those do not include wanting a new wardrobe or makeover.
Originally published on A Donor Conceived Adult. Republished with permission and some modifications.
---
About the author
Tiffany serves as president of U.S. Donor Conceived Council. She also blogs about her experiences as a donor conceived person. Tiffany is an attorney and lives with her husband and three young sons in the suburbs of Atlanta.
Top image by Elena Mishlanova via Unsplash.